You can seamlessly blend your favors into your day by having theme wedding favors, whether your theme is by color, holiday or even location, like a destination wedding. A theme always spices up any celebration. Weddings are no exception; in fact almost all couples today go for a theme to make it more special. Your theme can be applied to all aspects of your day, from your bridesmaids' dresses to the invitation, to the cake, to the favors among others.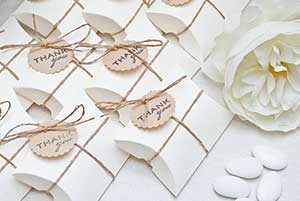 Your favors can take your celebration to greater heights because they are an extension of your celebration. Once your guests leave for home, they will have something to remember your wedding by. Oftentimes guests will keep your theme wedding favors as keepsakes and place them in scrapbooks or display them in their homes.
That's why care must be taken in choosing the best favors that will represent you and your soon to be spouse. Favorites includes cookie wedding favors especially for those who love to bake; CD favors for those who love music, candy for those who love sweet treats, those couples who love partying and the regular gathering of friends can go for shot glass wedding favors.
You can even combine theme wedding favors if you so chooses to spread more good cheer among your guests. Once you've selected the right favors for your celebration, put them inside wedding favor bags to surprise your guests.
Top Favorites for Theme Wedding Favors
Cookies
Couple cookies are great for cookie wedding favors! And it's easy to do by making two molds, one in the shape of a boy, the other in the shape of a girl. Put these two cookies inside a wedding favor bags. Tie the bag with a lace or ribbon in the color of your bridesmaid dresses.
If you want more variety you can have cookies in different shapes like hearts, stars, and flowers and decorate them with colorful frosting and put them in boxes for wedding favors.
Wedding CD Favors
One popular choice today for theme wedding favors for music lovers or couples whose relationship can be expressed by songs is to go for personalized wedding CD favors. You can connect your wedding theme to the CD by creating the CD cover in the same colors as your wedding invitation.
Or if you spoke a personal dedication before or after your vows, you can print out the words and placed them inside the CDs. Make sure that the songs included in the CDs are songs that mean something to your relationship or it's yours or his favorite.
Wedding Favor Candy
Now, for those with a sweet tooth, candy maybe the perfect fit! You can choose your favorite candy to give away; there's candy coated chocolates, hard candies, M & Ms and a lot more candy options! You can splurge and bring on an assortment of candies and make a buffet out of them! Your guests will sure to have fun in picking the candies to put in their special favor bags! Not to mention your little guests will be in candy heaven.
Shot Glass Favors
If you and your guy are the sort that regularly sees friends and have a good time over drinks, it's best to go with shot glasses for your guests and friends will surely identify you two with it.
Don't give away stock shot glass as your favors as they are not only boring but stock shot glasses don't have personality. Personalize the shot glasses to make it special and interesting by printing your name and wedding date, or frosting it and placing candles in them.
Wedding Favor Bags
Favor bags can be a wonderful addition to your theme wedding favors. They complete the presentation as well as can hide surprises for your guests when they got home. Make your special bags to closely reflect your wedding theme for a more harmonious feel. If you are creative, you can make a mini bag that looks like a tuxedo and a bridal gown. Or you can go for simple but elegant bags in the colors of your bouquet.
Weddings are not complete without presenting your guests with favors, and the best favors usually come with theme wedding favors!
Bookmark Wedding Favors
Bookmarks are one of those favors that can blend so easily into any theme and can act as secondary or complementary favors to any of the choices above or even as standalone favors with any style wedding.