Wedding themes are used by more and more couples to turn their big day into an event that is both meaningful to them and enjoyable for their guests. You can always stick with wedding themes that are simple and elegant or go all out and do something that's never been done before to make your wedding truly special. Remember that a wedding is an important occasion for both the bride and the groom, and a wedding theme needs to reflect that.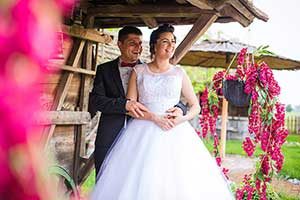 Take the time to sit down with your partner to explore possible wedding theme ideas that will make you both happy. Consider the mood and atmosphere you want to set for your wedding. Would you like it to be very traditional or fun and quirky? Sophisticated or relaxed? Then go a little deeper and think about your personal style, personality and interests. When you figure out a general direction for coming up with a theme, the ideas will come to you naturally. Take a look at some wedding themes below and the areas of your ceremony and reception that can be influenced by the theme you choose.
Time Period
Medieval – The perfect setting for this theme would be in historical churches or castles. The use of calligraphy is a great way to distinguish this time period. Decorations with a gothic feel and deep rich colors such as blue and purple work best.
Victorian – The ideal ceremony location for this theme is a Victorian style mansion or a garden with a beautiful gazebo, and there is nothing more fitting for the reception than having it in a grand ballroom. Lace can be used to adorn not only the bride's dress, but also the table setting and other elements for décor. Go with light colors in white, off white and pastels, and do not forget to add tea to the menu.
1920's – The bride can be very creative with her wedding day look by wearing unique headpieces or donning long strands of pearls. Bridesmaids can opt for a shorter dress that resembles the iconic flapper image of that era and groomsmen can sport a fedora to take them back in time. Your music selection for the reception can center around jazz, couple that with a uniquely cabaret style setting.
Destination
Beach – A wedding that takes place on a beach requires the dress code to be casual, with dresses preferably short. Seashells, starfish, flip flops and sandcastles are all popular beach related items that are frequently used in the décor for this wedding theme. Blues, whites and sandy colors typically represent this beautiful setting, and tropical exotic flowers should be used.
Cities – Whether you are having a destination wedding in a different city or just want to have your wedding feel as if it were in another location, you can include specific elements to make a certain city become your wedding theme. Make good use of colors, historical sites, cultural relics, flowers that represent the city and of course the fashion.
Interests
Rock & Roll – The most important aspect of this wedding theme is the music, let your guests rock and roll all night long. Instead of dressing like a classic bride and groom, go with something a little more rebellious. Think of your favorite rock songs and use elements from the song for decorating ideas.
Fairytale – Most girls who dream about their happily ever after need a wedding that is fit for a princess. Get ideas for your ceremony and reception from your favorite fairytale stories. You can go all out with horse drawn carriages and a grand ballroom or use subtle touches to create this theme.
Movie – The big screen is a great source of inspiration for many couples. If you want to capture the feel of a certain movie for your wedding, the possibilities are endless. From the wedding attire and music to the food and decorations, there are a lot of different things you can do to make the movie come alive. Some great movie themes include Alice in Wonderland, Grease, and Gone with the Wind. What are some of your favorites?
Culture
Asian – There are so many diverse cultures in Asia, each with its own unique wedding customs and traditions. If either the bride or groom is of a particular Asian ethnicity, it's important to incorporate the traditional dress of that culture into the wedding as well as food. Other cultural elements that can be used throughout include traditional patterns, artwork, colors, writing, etc.
Seasons
Spring – The weather is getting warmer and flowers are in bloom, there is no better season to have your wedding. A garden wedding would be perfect for this season, heavy use of flowers and butterflies are especially common for spring weddings. The colors that are used are usually light and so are the fabrics, pair that with food that contain a lot of fresh fruits, vegetables and herbs.
Summer – Everybody loves summer, that is why it is one of the most popular seasons to have a wedding. Outdoor ceremonies are perfect for this time of year and there are many different locations for you to choose from. The use of bright and vibrant colors is ideal for this season. Serve food and drinks that are refreshing, and let your wedding party wear something lightweight and comfortable.
Autumn – This season makes us think of falling leaves and rich colors such as red, orange, gold and brown. If the weather is not too chilly where you are, outdoor weddings can still be very appropriate. The menu should include meals that are made with foods common during this season such as pumpkins and apples. Centerpieces featuring autumn leaves and candles are also great for the reception.
Winter – Winter wonderland wedding themes are popular among many couples. With white being the primary color, it's easy to have the décor look both sophisticated and elegant especially using silver or gold accents. Think of ways to incorporate snowflakes into the decoration of your venue and for your wedding favors.
Wedding Color Scheme – After deciding on a theme, selecting the color combination to use throughout your wedding becomes a lot easier. Choose colors in shades that are representative of your theme.
Wedding Location – Wedding themes also play a major role when choosing a venue for the ceremony as well as reception. Having a theme helps to narrow down the options you have for holding your wedding.
Wedding Attire – Wedding themes can influence the attire for the bride, groom, wedding party and sometimes even the guests. Whether you decide to wear something traditional or unconventional, formal or casual,it all depends on how it fits in with your theme.
Wedding Decorations – Looking for one of a kind centerpieces and table settings? Let wedding themes inspire the décor of your entire reception.
Wedding Menu – Wedding themes can greatly affect the food that you serve your guests during the reception. Your menu can reflect a certain time period, culture, location or season.
Wedding Favors – Give your guests something special to take home as a little token of your appreciation. Gifts that are related to your wedding theme will remind them of the great time they had.
Wedding Floral Arrangement – With so many flowers to choose from, having a wedding theme makes it much easier to settle on a color combination for your floral arrangement and narrow it down to a specific style.
Wedding Cake – Wedding cakes have become a piece of art in and of itself. Your wedding cake can be one of the best representations of your theme. Discuss your ideas with the expert and let them work their magic.
Wedding Invitations – Let everyone know what to expect on your big day by incorporating the wedding theme into your invitations. It's a great way to get people excited and looking forward to being there.
Wedding Website – After the invitations go out, your guests can get updates about your wedding, take a look at what you are doing to prepare for the big day and get more information on what to expect through your wedding website. Grab their attention and keep them excited by creating a website entirely in the style of your planned theme.