There are a number of options for the style of engagement ring that you go for, but the main issue, especially in this financial climate is the budget. The budget will be determined by the cut, carat size and the precious metal that you use to mount the gem. Obviously gold and platinum will be more costly but equally for a special ring that is going to last you a lifetime, anything less would not quite be up to scratch. The size of the diamond or the number of diamonds you have on your ring will also bump up the costs.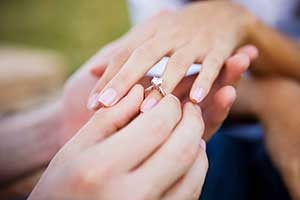 Now remember that you do not need to stick to a diamond as there are so many gemstones that can be used in the perfect engagement ring. You can often find a smaller but clearer diamond or gem which gives more sparkle than a larger less clear gemstone, and it is probably better to go for the smaller one in terms of the healing benefits of a gemstone that a large one with imperfections.
In this article we are not going to go into much detail about cut or carat size as you will be able to get this information from the website or store where you buy your ring, however you should consider the style, which is what we will be focusing on today.
Luxury – These rings are a cut above the rest, quite honestly in terms of price, your ring will be larger or have more diamonds if you choose a multistone over a solitaire ring. The clarity will be increased and if your gemstone is a diamond, it will be clearer and colourless with very few imperfections. The carat size will also be bigger and certain cuts cost more so you may have a greater option if you have a larger budget.
Split Shank – These rings have a split in the shank or the band, this can be split in a number of ways and even have more than one split, giving the appearance of more than one band. The band can be decorated with diamonds or other gemstones or may be simple and plain with a large central stone.
Antique – Antique rings are generally more than 100 years old, and unless you are buying from an Antique Jeweller you are unlikely to find antique engagement rings from a high street store. What you will find is antigue look rings, which may look like a ring from any period that is pre the last 100 years.
Vintage – Vintage rings are generally at least 20 years old and can be from any period. Typical Periods are show below, you can see from this that some rings can be both antique and vintage but not all vintage rings are antiques.
Vintage Georgian Jewellery (1714 – 1837)
Vintage Victorian Jewellery (1837 – 1901)
Vintage Edwardian Jewellery (1890 – 1905)
Vintage Art Nouveau Jewellery (1714 – 1837)
Vintage Art Deco Jewellery (1910 – 1935)
Vintage Retro Jewellery(1930's, 40's, 50's, 60's, 70's & 80's)
Inherited or Estate – These rings, as the name suggests are rings that are part of the Estate of a deceased person, and can either be inherited by relatives/friends as dictated by a will or a living request. Estate jewellery tends to be sold off in auction lots or by specialists and is pre-owned, but does not have any age attached to it. If you are thinking about an inherited engagement ring, things to think about:
Does it fit, if it does not it is usually easy to change, your local jeweller can advise you on this
Does it need a through clean, again go to your local jeweller for the best results
Do you like it, if not probably not worth wearing or giving as the sentiments of giving an inherited ring will not be honoured if quite frankly you don't like it!
Would you be able to change it, so that you like it and you are honouring any sentimental values.
Birthstone – If you love your birthstone colour there is no reason why you could not incorporate that into your engagement ring. You get the benefit that wearing your birthstone brings in terms of good luck and fortune and you have an engagement ring that you will always love, not to mention that many birthstones are cheaper than a diamond.
Celebrity Style – This type of ring is very much based on what and who is in at the moment, and is subject to change, so if you go for this option make sure that you really love your ring and will not change your mind when the next celeb flaunts her bling.
Solitaire – These are fairly traditional rings with one large diamond solitaire which can be cut in any different style and shape, so you can have a square princess cut or a round brilliant cut solitaire the choices are endless especially if you are open to different shapes of the diamond. Some examples are rectangles, triangles, ovals, pear, radiant, asscher, emerald and marquise.
3-5 or 7 Stone – These rings have three, five or seven diamonds in the design, often with a central large stone surrounded by some smaller diamonds which may be the same cut or different. So you could have a round central stone with emerald cuts either side, or any combination that pleases your eye and budget. As you move towards the seven stone engagement rings these tend to be in a line, like a half eternity ring, or you may design a central large stone again surrounded by smaller stones. Cluster or flower designs are also popular with seven stone engagement rings. Obviously you are not limited to diamonds in these styles you can always use a central stone that is not a diamond and the surrounding stones are diamonds, or not the choices for engagement rings are endless and deeply and completely personal.
Gemstone – Some examples of gorgeous gemstones that can be used in your engagement ring include your birthstone but also the following less known gemstones:
Morganite
Tanzanite
Tsovrite
Alexandrite
Moissanite
Multistone
These can all be designed in any of the above mentioned ways replacing the diamond or diamonds with the gemstone of choice.
Precious Metals Used – The precious metal that you use will add to the look of your engagement ring depending on your personal choice and available budget.
Platinum – Platinum is silver in colour and tend to be whiter in colour than white gold, for this reason they are very popular.
Yellow Gold or White Gold – Yellow and white gold are the obvious choices for the precious metal used in their engagement ring. Yellow gold can be 9ct, 14ct, 18ct 21ct or 24ct and as the number increases the purity, softness and yellowness of the gold increases. White gold is silver and often rhodium plated, which then gives it the same whiteness as a platinum ring however this needs to be re-plated every few years in order to keep the colour. Your local jeweller should be able to do this for you.