Outdoor Wedding Ideas
You would most likely need to think of outdoor wedding ideas if both you and your husband don't like the idea of getting married in a hall or hotel, or someplace that isn't suited to your life style. If you are both informal people, who enjoy the outdoors and a casual atmosphere – this is definitely a good and fun option.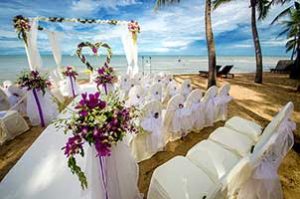 Beach Wedding
One of the main issues when planning an outdoor wedding, is to consider the season. Obviously an outdoor winter wedding would be difficult, unless you are both skiers and find a clergyman who would be willing to take the chance of conducting your ceremony in the snow. So the most obvious choice for comfortable weather is either in the early autumn or early spring. This is the mostly likely time to expect weather that won't surprise you or be uncomfortable.
Once you've decided when, then you have to think about where… in a garden, on a hilltop or at a spot that's "your special place". However, remember that people have to be able to get there easily, there has to be room for refreshments or a meal (and the facilities for the catering – whether brought there or prepared on the spot) and of course, space for the celebration itself!
Wedding Color Ideas
Now that you're engaged, wedding color ideas are probably popping into your head each and every time you see a color you like! The colors you choose for your wedding will help set the mood for the entire event, so it's important to take a few things into consideration.
It's perfectly fine to use your favorite colors for your wedding, but you'll also want to select colors that complement both the wedding ceremony and reception locations. You won't want your bridesmaid dresses and decorations to clash with any carpeting or curtains. Wedding color choices are often influenced by the season in which you're getting married: spring and summer brides tend to choose lighter color schemes than brides who say "I do" in the fall and winter. One other thing to keep in mind is the mood you want to create at your wedding. Dark colors often symbolize elegance and formality while bright colors can imply that the event is fun and casual.
However, the most important thing remember as you browse through our wedding color ideas is that this is your wedding and nothing is set in stone. If you have your heart set on pastel bridesmaids' dresses but you're getting married in the fall, make the choice that's right for you and not the choice that's dictated by a set of unspoken rules.
Holiday Wedding Theme Ideas
Trying to choose the ideal wedding date? Many couples are now considering wedding theme ideas that revolve around particular holidays for several different reasons. Some people love Halloween so much that they want to have a Halloween wedding, while others have several out-of-town relatives that come to visit for certain holidays each year. Maybe you simply want a wedding anniversary date that's easy to remember! Whatever the reason behind your decision, getting married on a holiday – or close to a holiday – is a trend that's growing in popularity.
An important thing to keep in mind when planning a holiday wedding is whether or not people will be able to attend the celebration. Most people spend Halloween and St. Patrick's Day at home, but Thanksgiving, Christmas and New Year's are holidays that cause many people to travel. Before deciding on a final wedding date, you should ask your family and friends whether or not they'd come to your wedding if you get married on a holiday. You may have family members coming to town, but your friends may be leaving town to visit their own relatives.
Unique Wedding Ideas
Weddings are not one-size-fits-all, and there are plenty of unique wedding ideas that you can consider if your ultimate goal is a truly memorable experience for everyone who attends your wedding. As your wedding day approaches, you'll need to make plenty of decisions about the necessary details, and if you're starting to feel stressed out… don't! Whether you're trying to decide between an elaborate celebration or an intimate gathering, and an indoor wedding or an outdoor wedding, you can easily plan the wedding of your dreams with far less effort than you can imagine.
From color schemes and wedding invitations to decorations and favors, we can help you make decisions on what you would prefer. These unique wedding ideas will definitely come in handy as you work out the rest of the details! Many people like to think outside the box when it comes to their wedding, and we understand your needs. In this section, we've included information about various wedding themes and descriptions that are difficult to categorize. It gives you the opportunity to learn about second weddings, Martha Stewart weddings, and more!