Recently, my cousin became engaged, and I will be his best man. Naturally, the subject of who will be his wedding videographer came up. His answer was simple: what should I look for in a wedding videographer? Being in the business myself, I would like to shed some light on the subject.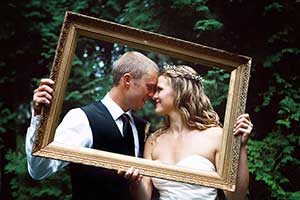 Experience
When you look for a wedding videographer, look for someone who is constantly shooting weddings. On average, a busy wedding cinematographer will record about 20-35 weddings per year. Above 35 weddings could be overkill.
First of all, make sure that your videographer has done more than thirty weddings. If s/he has done more than fifty wedding, it could be easily considered an experienced videographer.
I wouldn't really put much weight if the videographer says that he or she has two, three or five years of experience. It does not really matter. What matters is how many wedding he or she has done. The more the merrier.
Why is experience so important to me? Because in DSLR video, focusing is extremely important and difficult, and practice makes master. Unless your taste is for video that goes in and out of focus, you should look for a videographer what will keep your video in focus.
One vs Multiple videographers
Ask if the videographer can show you videos that he or she has done alone in a wedding. And then work that they have done with 2 or 3 videographers. This is really important.
Depending on your budget you may want to go with only one wedding videographer instead of multiple ones. Watch samples of his or her work while shooting a wedding video alone. Ask what is the best position he or she adopts during the ceremony and the reception.
Ask to see work while working with several videographers as well. How they position each camera during the ceremony and reception.
Ask to watch excerpts of a wedding video more than a highlight. Many wedding videographers emphasize in the highlight more than the wedding video itself. I have seen videographers missing important parts of the ceremony because they are working to get an exotic angle down from the aisle floor or with the slider. They do this just to create more production value to their highlight to show future clients.
DSLR
Another important matter to discuss is their equipment. If you are paying a wedding videographer, let say more than 2000 dollars, check that they are using DSLR cameras, preferably canon cameras.
There are many, but many videographers still using regular HD cameras, which give you acceptable image, but not cinematic look like DSLR cameras would give you.
Lights
Ask about lighting. Discuss about the lighting at the ceremony. Churches usually have good lighting, but if the church it not well illuminated, ask the wedding videographer how they deal with low light situations.
It's really important to ask about lighting for the reception. How do they plan to use them and what type of lighting equipment they use?
Reception halls are usually very dark, which makes wedding videography very challenging because you have to manage good lighting while not killing the mood. Confirm that your wedding videographer will have enough lighting for introductions, first dance, dance with parents, speeches, cutting the cake – the all the important moments of the reception.
Ask about lighting while dancing. Check that they do not use too much lighting that could kill the mood of the reception, or the lighting the dj or lighting specialist are using for your wedding. But, make sure they use a good source of lighting to illuminate your guests dancing.
Sound
Image quality is just half of your wedding video, sound is the other half.
A wedding video with bad sound could damage the quality of the video.
Ask the wedding cinematographer how they capture sound during the ceremony and reception, specially if you are getting married at a church, which has a lot a reverberation. Just make sure they mic the officiant or officiants, the groom and podium. They should be able to capture good sound from anywhere people will be talking or singing.
Make certain that they put a microphone on the singer, or at least put a recording equipment close to them if they do not have more lavaliere microphones or there are more than one singer.
Sound at the reception hall:
The reception is very noisy. People cheering, talking, etc. Talk to your videographer and make sure they get the sound from different sources like plugging their recording device right from the dj or band. Wedding videographers must also capture ambiance sound (ambience sound is important to get reactions from your guests)
Being unobtrusive
One important matter to discuss is how they work. I have seen videographers who are very obtrusive, so much, that they have 2 or 3 videographers very close to the bride and groom while doing the first dance or when they are dancing with their parents. They are very obtrusive in a way that it is impossible for the wedding photographers to capture a decent picture of the couple. Many videographers, trying to capture exotic angles or images for their highlights, become noisy and noticeable during the wedding ceremony and during the reception. Make sure they are respectful, unobtrusive and share a good working relationship with the photographers or any other vendor.
Video Length
Ask how long your wedding video will be. I have heard of wedding cinematographers that charge a great amount of money for their service, but only provide a 5 minute highlight and unedited raw footage. If you pay a couple thousands more, they give you 20 to 30 minutes wedding video. They reason that a video of more than 30 minutes could be boring and people would not enjoy it. I am one of those wedding videographers, who does not believe that. I think that the client could get a nicely edited wedding video of the entire wedding without being boring. If you would like to jump to certain part of the video, there are always the chapters. Just go to the scene selection on your dvd or blu ray and select whatever you would like to watch. Don't take me wrong, a shorter version of your wedding video is awesome, and we do offer it. In fact, we were one of the first studios to introduce this concept, but I just don't think that it should replace a long version of your complete wedding video.
Turnaround
Ask about the turnaround of the work. There are many studios that promise a first draft of your wedding video in five or six months. In my opinion that is too long. I provide a first draft of a wedding video within 2 months from the wedding day, so I can't really comprehend six months.
Check how the final product is delivered. Many companies that are still providing their clients with dvd only, and what good is it to record something in hd if it will be delivered in standard definition. Other wedding videographers will charge extra for blu rays. So make sure you know the final format. Even if you don't have Blu-ray, make sure you get Blu-rays.
Ask if they provide unlimited access to the video online or the digital copies for your mobile device.
Check if they allow changes to your wedding video and how the terms are for these changes.
A wedding video is one of the best memories you will have from your wedding day. You need to make sure that you will get the best possible wedding video.
Have a happy wedding!